For a soup party at the Gates' house I made a black bean chorizo soup. I wanted to make this because of a soup I had at The Drover, and I loved it.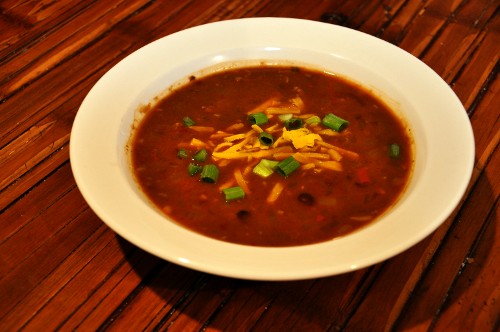 I didn't find an exact recipe to use, but I found one I thought would be a good starting point and went from there.
Here is the version I made, and at the end I'll add some comments about what I will be trying next time.
2 tablespoons olive oil
2 (4-ounce) fresh, raw Mexican Chorizo
1 medium yellow onion, finely chopped
3 cloves garlic, finely chopped
1 dried Chile de árbol, seeded
1 dried Poblano chile (chile ancho), seeded
3 (15-ounce) cans black beans
1 canned chipotle chile, diced
1 quart chicken broth
1/2 tablespoon ground cumin
Grated sharp cheddar cheese, for serving
Sliced green onions, for serving
Make a few small cuts in the chorizo with a knife. Place in your soup pot over high heat in 1/2 an inch of water.
Bring to a boil, then cover with a lid and lower head to medium-low. When sausages are firm (about 10 minutes) uncover and raise the heat to medium.
While they are boiling, place the chile de árbol and chile ancho in a food processor and break them up. They don't have to turn to powder, but you don't want any large chunks.
Let the water boil off, then brown the sausages a bit in their own oil. Remove the sausages and set aside.
Pour in a very little water, maybe a 1/4 of a cup to deglaze the pan, then add the olive oil. Turn the heat up to medium-high and add the garlic, ground up dried peppers, and half of the onions.
Saute until the onions are translucent, about 5 minutes. At the same time, cut your chorizo into 1/2″ slices, then halve those slices and add to the onions as you go.
Add the black beans, diced chipotle pepper and broth. Simmer for 20 minutes.
Blend half the soup as smooth as you can, then stir in the other half of the onions and simmer for another 5 minutes.
Dish it up, top with the cheddar and sliced green onions.
What I will do differently next time.
For texture, it came out thinner than I envisioned, so I would cut the chicken stock in half and replace it with equivalent puréed black beans. I might also consider adding some heavy cream to it, but I'm not sure.
I don't think I would add the canned chipotle chile next time. I'm not sure that flavor was right for where I wanted to go with the soup.
Also, I might only use half of a chile de árbol, since it came out pretty spicy and Darcy can't handle the heat.