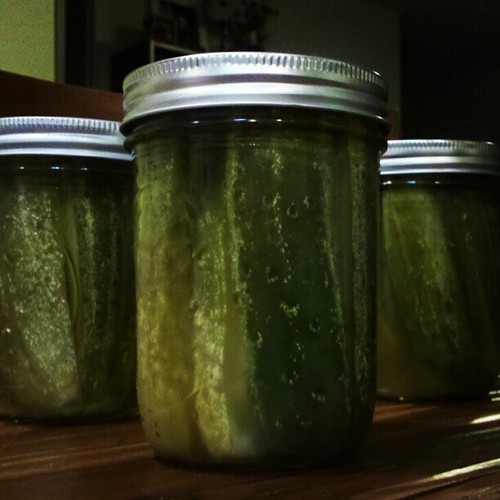 This year we planted mini-cucumbers, and got quite a few off the vine already. I decided to pickle some. For my first batch I used this recipe by Alton Brown. I didn't have fresh dill, I used sea salt, and I don't think my water was fully de-chlorinated, so they came out tasting way too garlicy, weird and inedible.
On the second try I modified it a bit, found pickling salt and used store-bought distilled water. They turned out much better, though not perfect. I think my flaw is not having fresh dill, and I was afraid of the garlic on the second go round, so I think I under did that too.
5.5 ounces pickling salt (just under 1/2 cup)
0.75 gallon CHLORINE FREE water
Pickling cukes (supposed to be 3 lbs, didn't weigh mine, I had 6 medium)
1/2 tbsp black peppercorns
1/2 tbsp red pepper flakes
1 clove garlic, crushed (I would go with 2 next time)
1 tsp dill seed
2 tsp dried dill weed (I'll try fresh next time, otherwise I would make this 3 to 4 tsp dried)
1/2 tsp coriander seeds
1/2 tsp mustard seeds
I'm not sure the coriander or mustard seeds added much flavor, I didn't add much and they were overpowered by the peppers. Next time I'll up the mustard and drop the coriander, I think.
You dissolve the salt in the water, put the aromatics on the bottom of the crock, place the cucumbers on top, and pour in most of the water. Then place the rest of the water in a gallon bag on top of the cucumbers to hold them down. Wait three days and then skim off the scum daily as needed for another 3-5 days. Eat.