This Thursday was the first Mastercraft Chili Cook Off put together by the crew at Big Ink. I made a chili on behalf of the What Cheer team, and Becca made corn bread. We didn't win (Big Ink's delicious chili did) but we were the best vegetarian chili! Also the only one.
I based my recipe off of the Ultimate Vegan Chili from Vegetarian Times, but made a few tweaks. Here is my rendition.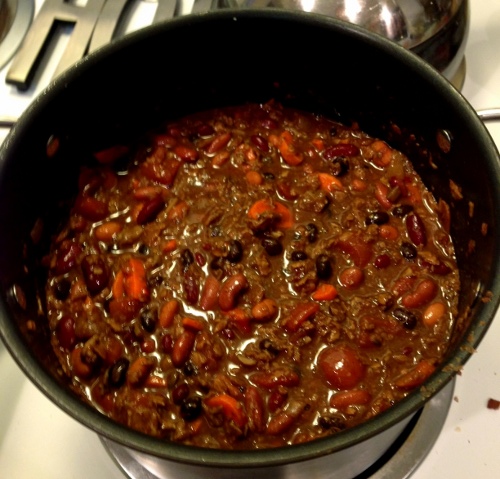 Ingredients
Spice Mix
2 tsp. smoked paprika
2 tsp. dried oregano
1 ½ tsp. chili powder
¾ tsp. celery salt
1 tsp. cayenne pepper
2 tsp. ancho pepper powder
2 chile de árbol, seeded and minced
Chili
1 large onion, chopped
~2 Tbs. olive oil
3 cloves garlic, minced
1 chipotle chile in adobo sauce, drained and minced
8 oz. baby bella mushrooms, finely chopped
2 12-oz. pkgs. soy ground, chopped
3 Tbs. tomato paste
1 15-oz. can black beans, partially drained
1 15-oz. can light red kidney beans, partially drained
1 15-oz. can dark red kidney beans, partially drained
1 15-oz. can pinto beans, partially drained
2 large carrots, chopped
2 Tbs. soy sauce
1 Tbs. Worcestershire sauce
Directions
Heat the olive oil in a large pot over medium-high heat, add onion, and sauté 7 to 10 minutes, or until beginning to brown.
Add garlic, chipotle chile, and mushrooms, cook 5 minutes until softened.
Add soy ground, tomato paste, spice mix and 1 cup water; cook 5 minutes, stirring occasionally.
Add beans, carrots, soy sauce, and Worcestershire sauce.
Cover, and reduce heat to medium-low.
Simmer 1 hour, or until carrots are tender.
Serve with crumbled Queso Blanco on top.
What I will do differently next time.
My chili was too thick, so next time I will greatly reduce the amount I drain from my beans, and I may add stock at the end if it still looks to thick.
I'd like to increase the amount of ancho chili, I love that smoky flavor. I'd also like to try adding in a bit of dark chocolate and cinnamon, something that the Big Ink team did to great success.
I really enjoyed the toothiness of the carrots, so next time I might add in a stalk or two of celery as well. The Burns & McDonnell chili had celery in it, and I liked that.
Lastly, this chili needed more heat. I like the back end burn of cayenne, so I think I'll add more of that. Another chile de árbol couldn't hurt either.