I am currently eating the best salad ever.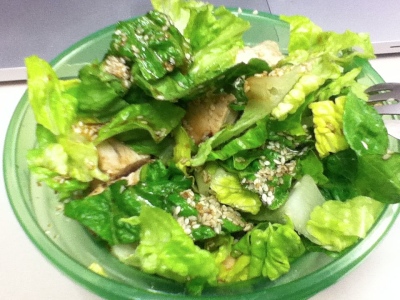 Yes. It is that delicious.
Grilled chicken, fresh romaine and an asian sesame dressing.
The Chicken
The chicken is el-cheapo boneless skinless breasts, with a little sea salt, black pepper, onion powder and garlic salt. Grill it. Lots of garlic is important to play off of the dressing, don't skimp!
The Dressing
This one is easy, but it doesn't make much. Double or triple it if you don't want to make it on a per salad basis.
2 tbsp Rice Vinegar
1 tbsp Soy Sauce
2 tsp Sugar
1 tsp Sesame Oil
1 tsp Ground White Sesame Seeds
Mix it together and shake before using. I have only whole white sesame seeds, so I try to mash them a bit with a spoon first.
The dressing will filter to the bottom of your salad, so make sure you turn it a lot as you eat for maximum deliciousness.
Enjoy.