Salutations!
It's been another lovely year for us Hobbseses. This won't be a long letter this year, as I am writing it the day of from the Borders cafe and there is a trekkie in the sci-fi/fantasy aisle eyeing the Death Star sticker on my laptop. Things could turn ugly at any moment. Any. Moment.
Good thing I'm packing my DL-44 with the shaved down barrel sight.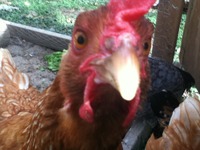 So, what happened to us this year? Well, I think this year has been defined by chickens. Against the outcry of friends and family we got four little chicks this February. Much to our surprise they do not stay small and fluffy. They turned into chickens. What the heck?!
What else happened? We went to Colorado to visit the hippies Rogers.
As you can see from the top photo, we had a great time.
I got to drive Steph's scooter. We ate wild mountainside honey, and, um, you know, hung out and stuff. It was well worth the drive. Manitou is beautiful, even with all the crazies.
Darcy is rocking two jobs, working nearly full time. Well, she's at work nearly full time, I can't attest to how much actual working she does. At least a third of the time I bet.
She's a pre-school teacher again this year, herding around a class of three year olds and a class of four year olds. Even better she works at Borders, where we go to spend all of our money on books, but at a discount!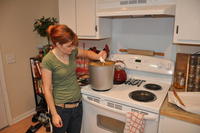 I switched to a new job just two weeks ago. It's going well, I miss the solitary work I was doing before, but this is pretty cool too.
Socially speaking it's probably better, since I have to interact with other humans on a daily basis.
So, let's see, other adventures of the year. Nan and Ryan still aren't married. Lazy bums. Darcy made beer (like 5 gallons of it) and then everybody drank it. We grew pumpkins. Darcy went to Chipotle with me (twice I think).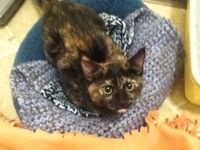 Our last little bit of news is an addition to the family. No, not a baby, but another cat. Darcy got Pigwidgeon (or Pig for short) for Christmas this year. She's a little speed demon, and we don't think she's going to get very big. Hence the name.
So if you are allergic to cats, our house just got a little bit worse for you. We don't like you. Stop coming over. How many cats do we have to get before you take the hint?!
So that's it for us, we hope you have a Merry Christmas, and if you are one of the people we have professed to love in the past, then we still love you!
– John & Darcy Hobbs